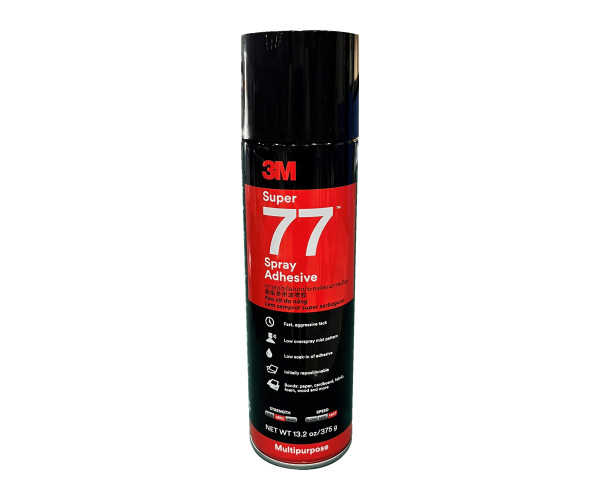 3M Multi-Purpose Spray Adhesive 77
3M Multi-Purpose Spray Adhesive 77
3M Multi-Purpose Spray Adhesive 77is the ultimate solution for bonding a wide array of lightweight materials, including paper, cardboard, metal, wood, foam, and fabric. This versatile adhesive simplifies your projects, offering quick and easy application for various creative endeavors and mounting tasks.
The standout feature of 3M Multi-Purpose Spray Adhesive 77 is its rapid drying time, allowing you to work efficiently and without delay. Whether you're crafting, assembling, or mounting, this adhesive ensures a swift and hassle-free process.
What truly sets this adhesive apart is its ability to create a permanent bond that can withstand the test of time and the most demanding environments. Your projects will stay intact, even in challenging conditions.
For a reliable, multi-material bonding solution that brings your creative visions to life, 3M Multi-Purpose Spray Adhesive 77 is the dependable choice. Get ready to tackle your projects with confidence, knowing that your bonds will hold strong, no matter what.
Key Features:
Versatile adhesive ideal for bonding many lightweight materials
Clear in colour
High adhesive coverage
Ideal for a wide variety of bonding jobs

Learn more & view other products
With You All The Way To Your Door!
At CPH Group we want to make sure your experience is as convenient as possible. That's why we've outlined our shipping and delivery policies to keep you informed every step of the way. 
Free Shipping
We offer the ability to qualify for FREE Shipping AUSTRALIA WIDE. Simply add items to your cart and monitor the FREE Shipping bar at the bottom of your cart to make sure you qualify for Free Shipping and we'll ship your order to your doorstep for free -Because it's easy! 
Shipping options to suit your needs: 
Standard Shipping: Our most cost-effective option with delivery normally in 1 business day. Express Shipping: (Metro Melbourne Only) - For those who can't wait, enjoy faster delivery in as little as 3 Hours
Delivery Times  
Our shipping times are known to be the fastest in Australia! Our estimated standard shipping times are listed below: 
| | |
| --- | --- |
| Melbourne Metro & Geelong  | 6 hours.  Order by 10AM, get it by 4PM!  |
| VIC Regional  | 24 hours. Order by 3PM, get it next day!  |
| Sydney Metro & Canberra  | 24 hours. Order by 3PM, get it next day!  |
| NSW Regional  | 24 hours. Order by 3PM, get it next day!  |
| Adelaide Metro  | 24 hours. Order by 3PM, get it next day!  |
| Brisbane Metro & Gold Coast  | 48 hours. Order by 3PM, get it in 2 days!  |
| Rest of Australia  | 1-3 Days |
Please note that delivery times may vary based on your location. We will provide you with a tracking number so you can monitor the progress of your shipment.
When will I receive my Tracking?
Once your order is dispatched, you'll receive an email from us containing your tracking information.
How can I track my order?
You can track your order easily once you receive Shipping notification via email. Simply click on the link in the email to follow and track your order.
1-Hour Click & Collect
Enjoy the swiftness of our Click & Collect service.
Simply choose Click & Collect at checkout, and in just 1 hour, your order will be ready for pickup from our distribution centre located HERE.
You'll receive an email notification as soon as it's prepared. For orders needing cutting or machining, we'll prioritize precision over speed so these may take a little longer.
Choose Click and Collect and experience the efficiency and reliability of our elite dispatch team. 
What is a BULKY item?  
Bulky items are typically any item over 25kg in weight, or with a large cubic volume. These item(s) will be marked as a bulky item.
How will my bulky item be delivered? 
Bulky deliveries will be delivered by our transport partners to a safe and easy to access location at the your nominated delivery address. For health & safety reasons in the majority of cases this will exclude delivery of the item up flights of stairs.
Please have adequate assistance available to you following receipt of your delivery.